18 December 2020
An inch and a half-long silver needle travelled through my skin. I felt the 0.3 milliliters of liquid - about a few teardrops worth - spread. I texted my mom, a nurse, a picture of me holding my vaccination card. "I'm crying. So happy. ❤", she said. With a mask shielding the bottom two-thirds of my face, you would know I was smiling only by the wrinkles that formed at the sides of my eyes. The wrinkles stayed for a long while. 
I'm a doctor training to specialize in emergency medicine. I photographed a handful of my co-workers with the band-aids they received after the COVID-19 vaccine needle left their skin. The band-aid has become a symbol of science and medicine's efforts to end this pandemic, to fight back. For months, many of us wondered when the strip of adhesive would be stuck onto our upper arms. The time has come. And the day for your band-aid is coming soon too. 
As I took their portraits, I asked my colleagues to think about where we've been and where we're headed. It was wonderful to see their faces again. Eventually, when the masks come off for good, I look forward to seeing smiles again, not just the wrinkles around our eyes.
Eric Curran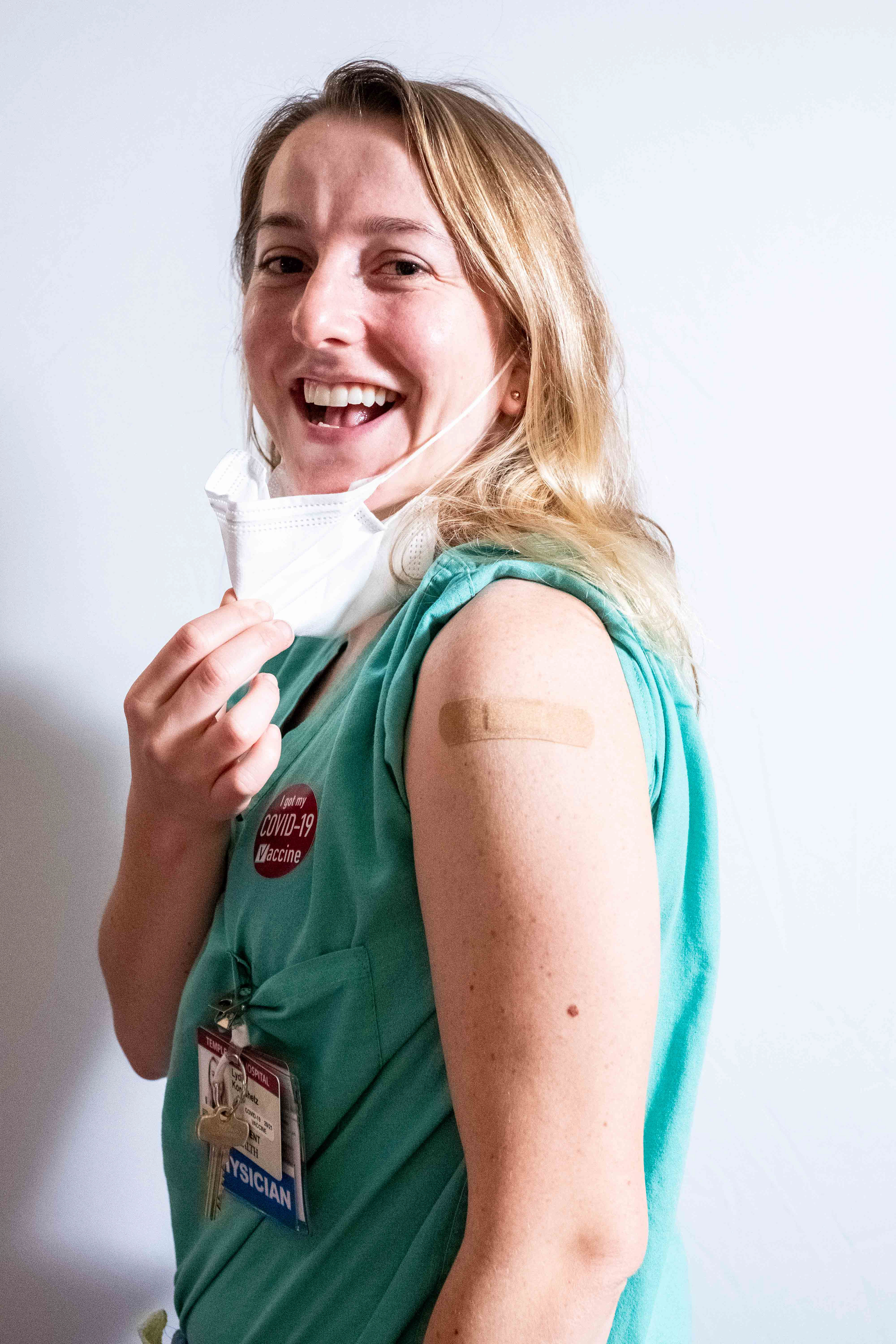 "North Philly was already facing an
epidemic of gun violence and opioids long
before COVID came along - and those
crises were only compounded by the
pandemic in 2020. My patients are so
resilient, and it is such a privilege to learn
from and take care of them every day.


I'm most looking forward to spending
time with my family. We're spread out
around the country so I'm just excited to
see everyone together in one place."
Kurt Channick, MD
"In a hospital without visitors, the
isolation and seclusion is what struck me
the most. Nobody wants to die alone.
When the world is looking to you for
diagnoses and treatments, sometimes a
hand to hold is what the patient wants
most.

I most look forward to the day I can safely
spend time with my family. Oh, and go to
a Sixers game."
Alyssa Lombardi, MD, PhD

"Something that has really stuck with me
is seeing patients by themselves, since the
hospital limits visitors. It has really made
me recognize how important it is for
patients to have a loved one with them,
not only to give them support but also to
advocate for them. I think (hope) the
pandemic has made me become a better
advocate for my patients.

Post-pandemic, I'm really looking
forward to hugging my grandparents."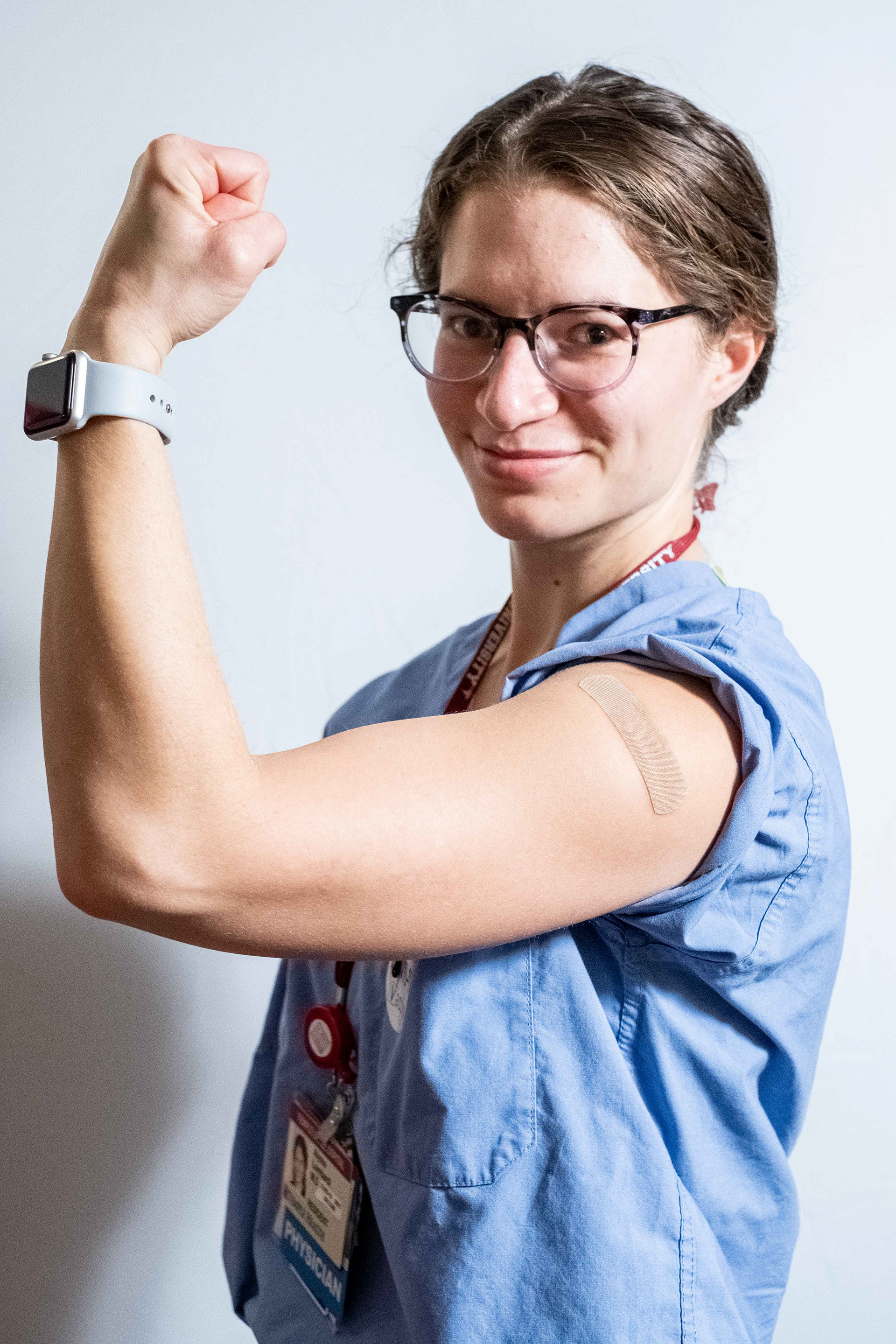 Anya McDermott, MD
"The pandemic has exacerbated existing
and well-known disparities in healthcare.
How we transform the system to address
and begin to correct these inequities will
define this generation of healthcare
providers. We cannot forget how
COVID-19 has impacted the most
vulnerable.

No matter how careful I am, it is
exhausting and terrifying to think I am
somehow spreading COVID-19. I am
looking forward to shedding this new
anxiety (instead of viral shedding) and
hugging my parents!"
Shannon Wright, MD
"I helped a patient sing happy birthday to
their grandchild over FaceTime. I think
we've all had moments during the surge
where we feel limited in what we can
provide for patients who are so sick. It
was a nice reminder that there are places
where kindness can go even if medicine
can't reach yet.

I can't wait to hug my grandma! It will be
nice to eventually know what all my
colleagues' faces look like in their
entirety, and explore Philadelphia when
things are more open and safe."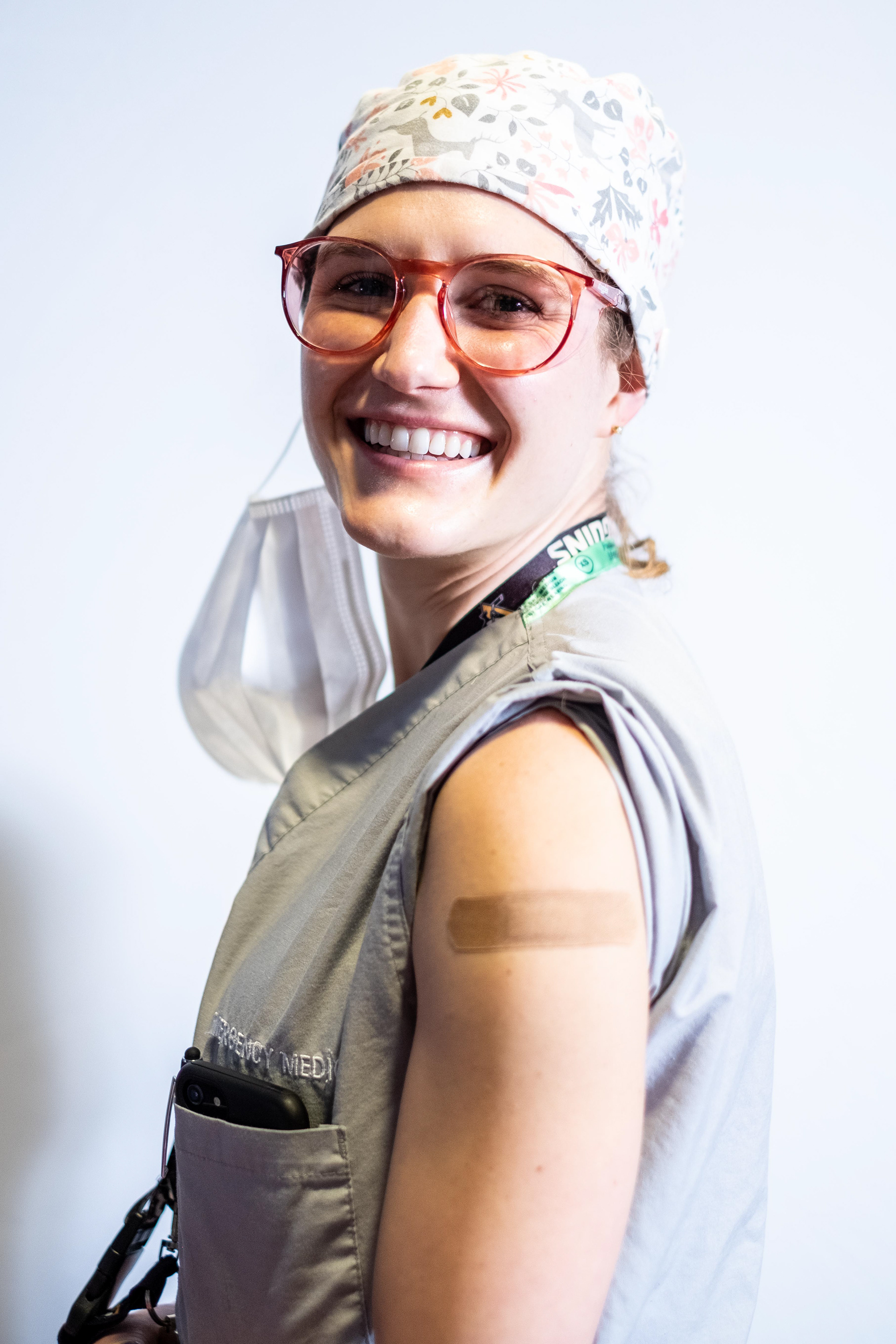 Michael Kosofsky, MD
"As isolating as this pandemic has been in
the hospital, what has stuck out to me the
most is how understanding, supportive,
and appreciative both patients and their
families have been throughout these
difficult times. It's clear that we are all in
this together and we will get through this
pandemic together.

Looking forward to some live music!!"
Lydia Koroshetz, MD
"I'm amazed by the self-sacrifice and
resilience demonstrated by front line
workers, but I feel equally inspired by the
stories of fear, exhaustion, and grief that
remind us that we're only human.
Promoting wellness in healthcare workers
is more important than ever.

I'm looking forward to a kinder America
and a stronger public health
infrastructure. And patients' family and
friends being able to visit their loved ones
in the hospital again."
Jason Gonzalez, MD
"This is a tough situation, things are
obviously stressful for everyone in and
out of the hospital, but there are some
people in the ED that just roll with the
punches and make things look easy.
Those are the people I look up to and try
to emulate.

Honestly just looking forward to being
able to see my family again, being able to
properly celebrate my med school
graduation with them!"
Matthew Berger, MD
"I would say the thing that had stuck with
me the most is giving patients advice and
instructions about COVID that I also have
to follow myself. Gives me extra empathy
with them.

The thing I'm most looking forward to
post pandemic is being able to go out to
eat with friends again."
Greg Zandrow, MD
"As an ER physician, you train to be able
to provide care to people at the worst,
most desperate times of their lives. The
COVID pandemic has shown us how
deeply committed we are to that notion,
coming to work day after day as the
contagion steals our patient's last breaths.

I like to travel, I'm looking forward to
safely getting back on planes."
Katelyn Peloza, MD
"I learned how to have patience and hope
during daily uncertainty as a brand new
doctor in the middle of a pandemic.

I'm excited to see smiles when a patient
or colleague cracks a joke, and for them to
see me smiling back."
Eric Curran, MD
"So many times I've said, "You're in the
hospital now, you're going to be okay."
Sometimes that turned out to be a lie. I
think about these lies often. But what
would I want to hear from the doctor if it
were my breaths fogging the oxygen
mask?

I'm looking forward to sitting on a
barstool with a cheeseburger and a cold
beer alongside friends. In the ER, you see
how terribly short and unexpected life
can become. I hope we come out of this
with a deeper appreciation for life and
each other - including the simpler
moments like a barside meal."